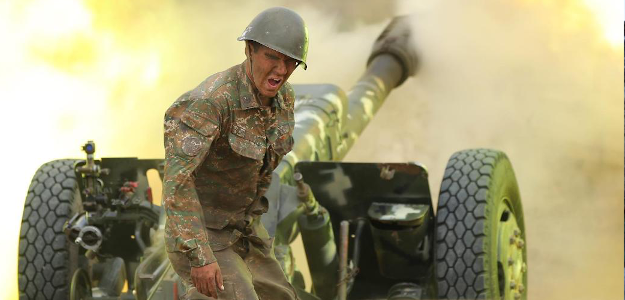 A Democracy Must Be Able to Defend Itself
Every dictatorship starts its war. This is obviously the case for Azeri president Aliyev and his close friend, permanent "warrior", Recep Tayyip Erdogan. This summer they deployed Turkish military personnel to Azerbaijan and prepared a large-scale military attack against the Nagorno-Karabakh Republic, which started on September 27. But, such wars may also become graveyards for this type of adventurist dictators.
A Seemingly Well-planned Aggression turned out to be a Miscalculation
It appears that both presidents have miscalculated the unraveling and aftermath of their war in Nagorno-Karabakh, despite the fact that everything seemed well-planned: first of all, because of Covid-19, travel between Georgia and Armenia is restricted; the country is also blockaded by Azerbaijan and Turkey, so even the Armenian diaspora wouldn´t be able to bring help; they even asked Georgia to prohibit transportation of military equipment from Russia to Armenia (while a large number of Turkish military jets have delivered military assistance to Baku); Turkey deployed mobile terrorist groups of Syrian mercenaries to support Azerbaijan; and last but not least, the perfect time was picked to start the war: 7:10, early Sunday morning, when everyone is either still asleep or relaxing.
Even so, this was a big miscalculation, because the decisive first hours of the aggression didn´t bring significant success to the invaders. To date, the Nagorno-Karabakh Defense Army is not only firmly defending its positions, but has also (according to the official statements of the Armenian side) destroyed 166 armored vehicles, 7 helicopters and other military equipment. Nevertheless, the total number of casualties on both sides demonstrates the intensity of the fighting.
A Conflict of Values
The irony is that Armenia, which suffered under a long-lasting oligarchic regime until the Velvet Revolution in 2018 led by current Prime Minister Nikol Pashinyan, has now become the vanguard for democratic values. Nagorno-Karabakh has also chosen democracy. Armenia defends the right of the people of Karabakh to self-determination and sees itself as their guarantor of security. The people in Nagorno-Karabakh are fighting a liberation war for the third time, all three of which were started by Azerbaijan in 1990, 2016 and 2020.
The current war has an additional aspect for the societies of the Republics of Armenia and Nagorno-Karabakh. They are defending their newly born democracies. Just as they self-mobilized into grassroots groups on the streets in 2018 and carried out peaceful acts of civil disobedience, they are now creating unique solidarity centers and mobilization points all over the country to resist and push back the irrational adversary, Azerbaijan. On the second day of the war, Erdogan openly called on Armenian citizens to stand against their democratically elected leadership. A democracy must be able to defend itself; this is what is motivating the Armenians. And this is true not only for Armenia, but for all democracies and democratic forces in Azerbaijan. Experts have explicitly mentioned that Armenia and Karabakh had no motive to start a war at this time, and world leaders have acknowledged that Azerbaijan, supported by Turkey and terrorist groups, has committed an act of aggression. So, there is no alternative to negotiations and a peaceful resolution. But a resolution can be more easily achieved, if the parties speak to each other in the same language of democracy.
To a certain extent, the Armenian Democratic Velvet Revolution of 2018 reduced the militaristic tendencies in the Armenian society. In a dictatorship such as Azerbaijan, it is harder for people to fulfill their similar aspirations. Moreover, there is patriotism resembling jingoism, which is promoted by Azerbaijani elite groups. In a regional context, Azerbaijan is one of the last strongholds of radical nationalism, where democratic groups are subjected to brutal repression and are often labelled tra​it​ors collaborating with Armenians. One of the main spurs for the occasionally intensifying war is Azerbaijan's dictatorship, which also uses the conflict to neutralize democratic forces.
Nagorno-Karabakh: a Graveyard for Dictators and Superpowers?
It is not the first time that Nagorno-Karabakh is becoming an arena for the interests of superpowers. Located right in the center of the South Caucasus, between Russia, Iran and Turkey, this region with its history of long periods of statehood, has often been contested by foreign superpowers. The first popular movement in the Soviet Union began in Nagorno-Karabakh, in 1988. In the wave of democratization proclaimed by "Perestroyka" during the 80s, a movement of unprecedented size started in Soviet Armenia and Nagorno-Karabakh with a demand for unification directed at Moscow. Questioning an unjust Stalinist policy decision made in 1921, Nagorno-Karabakh became the first serious blow and eventually the graveyard of the Soviet Union.
After his Lybian, Syrian and Eastern Mediterranean military adventures, Erdogan will try to gain additional points for his negotiations with the international actors. He has economic problems and conflicts with nearly all of his neighbors and even his allies. The current tendencies within the EU allow him to continue his imperialistic rhetoric and pressure. By starting this war with Nagorno-Karabakh the dictator Erdogan has taken his inexperienced friend Aliyev on a one-way adventure with an uncertain future. His neo-ottoman ambitions are the main driving force of this particular joint operation with Azerbaijan. The destabilizing role of these dictators can only be neutralized with firm political and economic instruments, because this type of politicians only understand the language of force or financial interests.
Four days into this war and with major failures, it seems that Aliyev doesn´t have the strength to continue, but also doesn´t have the courage to stop with zero results. His people will demand answers.
It is obvious that if Erdogan and Aliyev withdraw from their adventure in Nagorno-Karabakh, democracy will be given a real chance to spread its roots in this region. It must be stated that brutal wars such as this are a consequence of the crisis of multilateralism and the rise of nationalism throughout the world. The young yet very motivated democratic Armenia may play a constructive role in international cooperation and peace, changing the configuration of the wider region of Europe, Russia and the Middle East. The consolidation of the efforts of democratic and free countries may dig the "political graves" of these dictatorships or, at the least, lay the path to them, and put cooperation for peace, democracy and social justice on the agenda.
Vahram Soghomonyan (born 1977) is member of editorial board of the Yerevan-based Political Discourse Journal, which was founded in 2013 by a group of Armenian social scientists and representatives of civic groups. He studied German Language at the Yerevan State University. From 2002 until 2006 he worked at the Philipps University of Marburg as a member of the "European Integration" research group. His studies are focused on South Caucasus and European integration, changes in the system of values in Armenia and the Karabakh. Since 2010 he has been actively involved in civic initiatives in Armenia (including Mashtots Park Movement). Vahram Soghomonyan is a member of Civic Initiative for Education.

Դիտվել է 187 անգամ